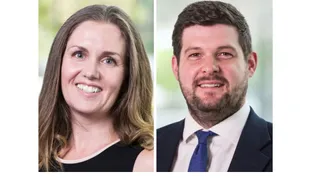 Arch II unveils new energy heads
Arch Insurance International has promoted Hannah Hutton to head of onshore energy, and Michael Poulteney to head of offshore energy.
Their appointments are effective immediately and they will report to Jake Gibbs, head of marine & energy.
Hutton and Poulteney have both been promoted from their previous roles as underwriting managers, and they are responsible for managing underwriting activities across the London Market onshore and offshore energy teams. Both portfolios provide a broad range of solutions, on a worldwide basis, across the conventional and renewable energy sectors.
Hutton has more than 20 years of insurance market experience. She has worked at Arch for 18 years and was appointed underwriting manager for onshore energy in 2020. Poulteney brings over 15 years of experience in the offshore energy sector to his new position. He joined Arch in 2015 from QBE and became underwriting manager for offshore energy in 2019.
"The promotions of Hannah and Michael to lead our onshore and offshore energy teams are very well deserved," said Gibbs. "Having already been leading the development of their respective portfolios, their appointments are very much a natural transition. Their market experience, technical expertise and strength of broker relationships will be integral as we continue to strengthen our relevance and market standing in these two lines."
More on this story
news
26 September 2023  
The executive will take over from the departing current MD in January.
Analysis
5 June 2023  
The new underwriter has been based in the Middle East for some time.
article
5 December 2022  
This is a promotion for the CUO of Programs, Property and Specialty.