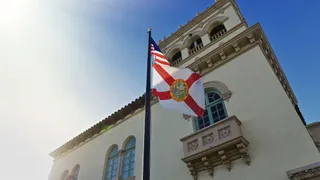 NRRA: 'defective' SB517 / HB57 bills will have devastating impact on RRGs
The National Risk Retention Association (NRRA) has warned that Florida bill SB516 / HB 57 will impact Florida's risk retention groups (RRG) if it makes it to the desk of Governor Ron DeSantis this week.
In the latest NRRA newsletter NRRA executive director Joe Deems warned that: "This defectively drafted bill is ironically being sponsored by a RRG for construction contractors which already has an AM Best 'A' rating with its own capital surplus exceeding $100 million dollars. The Bill seeks to establish the identical criteria of an AM Best "A" rating plus a minimum of $100 million in capital surplus for any companies insuring their commercial autos while competing against the sponsor in the market."
According to Deems 90-95% of all RRGs in Florida do not have or need such ratings. He said that they are not required by law to possess such ratings or capital surplus, and frankly do not want to have such ratings which are expensive to maintain and will interfere with their ability to conduct their local small businesses.
"This crisis is going to be global. This bill actually creates a monopoly that simultaneously promotes unrestrained discrimination by overzealous regulators, and discourages competition," Deems continued. "It will drive prices up across the board, increasing even the costs of goods and services. It will be welcomed by agents, brokers and the traditional carriers who will be able eliminate competitors who succeed in keeping costs down."
The NRRA has been lobbying against the bill, claiming that it is in violation of federal law and that if passed, Florida Bill 516 will have a 'devastating impact' on not only trucking and transportation RRGs registered in Florida immediately, but potentially every RRG writing commercial liability, including auto. This could also arguably impact 96% of the RRGs registered in Florida. Hundreds, if not thousands, of RRG owner-member-insureds could lose their coverage. The Bill's passing may also open the door to other significant potential threats to risk retention groups in other states and for other types of risk retention group entities.
Deems concluded: "If Florida can get away with violating the federal law specifically designed to prevent states from interfering with RRGs, and/or by making any financial rating a requirement to do business in their state, it may set a precedent to make other states bolder to do the same thing.  We need to stop this bill before it passes because, if it passes, suing the state will take years and will be too late to help these impacted RRGs."
More on this story
Analysis
18 July 2023  
Captive International gets the latest on the Florida risk retention group legislative battle, in an exclusive interview with Joe Deems of the National Risk Retention Association.
Analysis
14 March 2018  
Risk Retention Groups (RRGs) are well-placed to meet the needs of today's dynamic marketplace, however, the sector has changed and it is difficult to tell if the numbers of such groups have increased or decreased.