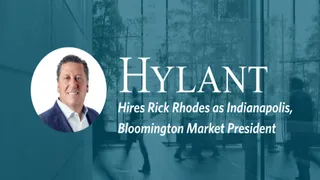 12 December 2022
Reinsurance
Indiana veteran Rhodes joins Hylant
Rick Rhodes has joined Hylant as the Indianapolis/Bloomington market president.
According to Hylant Rhodes is a household name among brokers, carriers and employers throughout Indiana, is a leading expert in the insurance industry and brings more than 20 years of experience to his role.
Previously regional vice president at Anthem, Rhodes will primarily focus on growth in his role as market president.
As regional vice president of sales at Anthem, Rhodes managed growth initiatives that saw membership growth increase by more than 10 million individuals.
Hylant said that Rhodes' leadership and insurance experience, coupled with his strength in developing successful teams and fostering relationships, will enhance Hylant's name throughout the Indiana market.
"We are beyond excited to have Rick join the Hylant family," said Clayton Jennings, chief executive of Hylant's Great Lakes region. "We are confident Rick's passion, energy and expertise are going to lead us into the next chapter of growth in Indiana."
More on this story
news
22 September 2023  
The pair are both veterans of the insurance industry.
news
19 September 2023  
The new executive will inform clients on the management of operational risks.
news
21 August 2023  
The new executive joins the growing captives team at the company.